Menus
Typical alsatian menus and dishes
The Katz Tavern, referenced in the Michelin Guide, offers typical Alsatian dishes. The Winstub menu offers a wide choice of memorable dishes such as braised pork cheeks in beer, chicken pot pie, roasted ham with plum brandy, potato cakes, or the famous pork sauerkraut.
And then for dessert the gourmets will be delighted , for instance with the Katz sundae (hazelnut ice cream, whipped cream and sliced almonds) or the apple, grape and walnut strudel, drizzled with rum and served with cinnamon ice cream.
To accompany your meal, our waiting staff will be happy to suggest one of our drinks on the menu : as wine possibly the Trimbach Pinot Gris or as bear the Lager from the Licorne Brewery.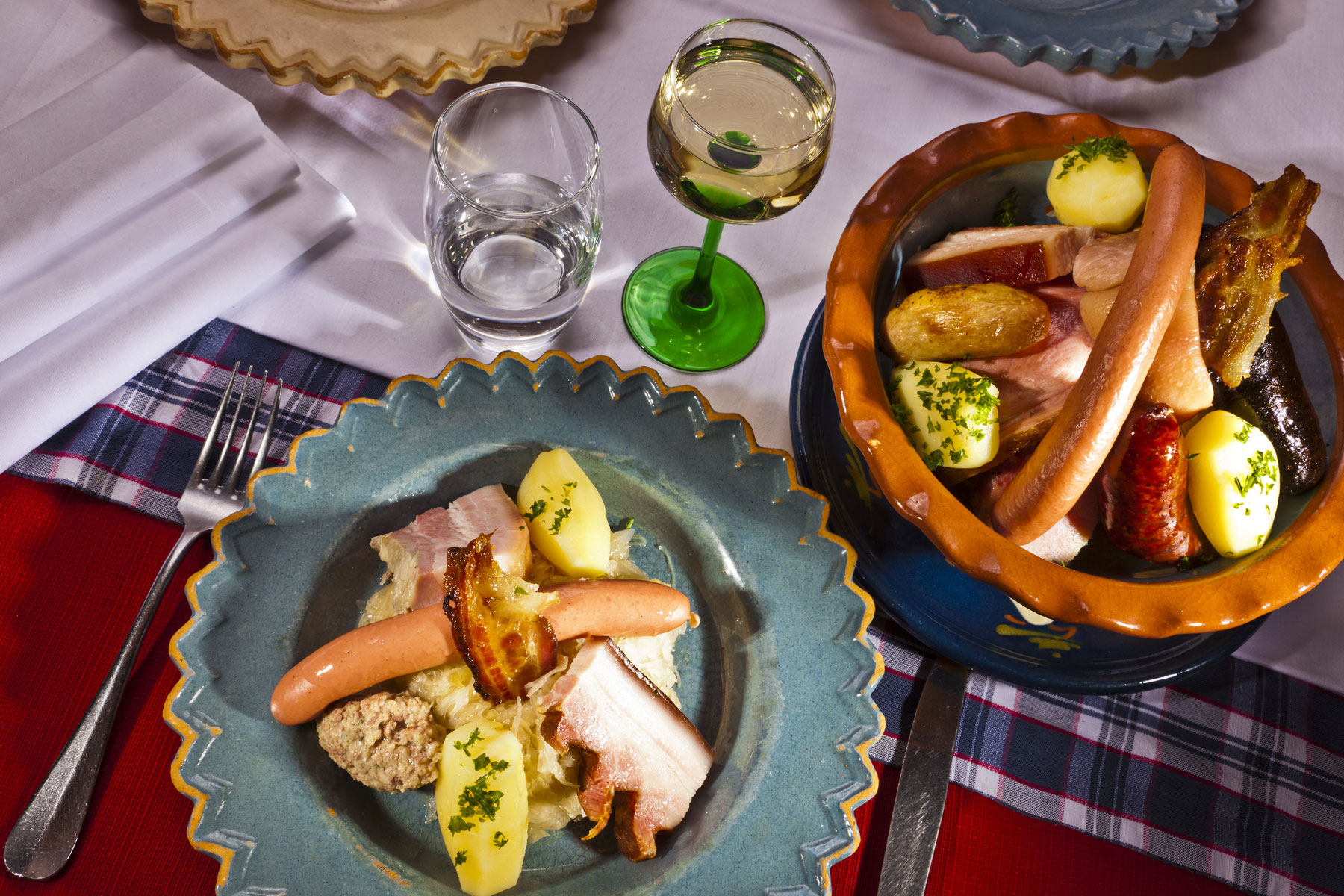 Les Petits Plats de la Taverne
Les Spécialités de la Taverne
Les Poissons de la Taverne
Les fromages de la Taverne
Les desserts glacés de la Taverne
Fait maison
Les pâtisseries de la Taverne
Fait maison
Menu Alsacien de la Taverne — 47 €
Potatoes Panckakes with Applesauce
*****
Stuffed Vegetables with Beef
*****
Cheese and Potato Quenel
*****
Trou Alsacien
*****
Little Cooking Pot with Chiken and Mushrooms under a Puff Pastry
*****
Alsatian Appelstruedel
Menu Foie Gras de la Taverne Katz — 59 €
Duck foie Gras with Buns
******
Crispy of Zander with Duck Foie Gras
******
Trou Alsacien
*****
Filet Mignon Beef with Foie Gras Scalop
******
Cheese Platter
****
Fruit Salad with Sorbet Ice
Our contact details
Taverne Katz
80, Grand'Rue
67700 Saverne
Phone: + 33 (0)3 88 71 16 56
How to get here
By car:
Take the A4 motorway, exit 45 for Saverne.
GPS coordinates: latitude: 48.7410813, longitude: 7.362828400000012
For further information: www.google.fr/maps
By train:
Saverne Station (500 m away)
For further information: www.oui.sncf
Location
You will find us at 80 Grand'Rue (pedestrian zone) in the historical centre of Saverne. The House Katz is situated directly next to Saverne town hall.
Surroundings
Saverne is a well-known stopping point for ships traveling along the Canal from the Marne to the Rhine. Just at the foot of the city's castle, you'll spot many ships docked in the Marina or passing through the Grand'Rue lock.
There are also some very beautiful villages to visit nearby, such as Bouxwiller.